Benchmarking
The Montenius ski area valuation is an excellent tool to benchmark ski areas in an user-defined competitive environment.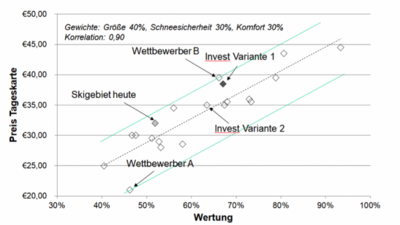 We have successfully implemented this methodology in our consulting activities on several occasions. In planning projects, it offers the possibility of determining the effects of different measures on the competitive position in certain aspects or on the overall value of the ski area.
This also makes it possible to compare different alternatives of projects. Effects of improved lift riding comfort can be compared with those of a more powerful snowmaking system. Especially when investment budgets are tight, these answers are needed - the Montenius ski area valuation can provide them.
This benchmarking may also show whether your ski area stands out in one respect or another. We offer special labels for the communication of unique selling points. More information here.
The figure on the right shows an example of benchmarking in a regional competitive environment. In concrete terms, it is possible to derive statements about the scope for price increases that results from different investment options.
There is no easier way to increase revenues than with a price increase - if the market accepts it.
This business truism also applies to ski areas and is particularly relevant to them, as they usually operate in a highly competitive environment. The Montenius ski area valuation offers ski areas the opportunity to analyse their current price level in the context of an user-defined competitive environment and to explore the scope for price adjustments.
Contact us and we will be pleased to make you an offer for your individual benchmark analysis and to consult you in terms of pricing.